Fundamental neue Lösungen für die intelligente Wirtschaft
Project NEMO
New/Next Economic Model
INSEDE
Institute for Sustainable Economic Development
Business Engineering Systems
Systeme für eine bessere Wirtschaft
---
Das Ingenieurbüro für Wirtschaftsentwicklung
---
Downloads

Die original Systeme
- Module


Werte


Potenziale besser nutzen


Simultaneous Engineering


Innovationen
Referate


Intangible Values SwissRe


Vector-Based Performance
Management (PMA UK)


HTML Version of Vector-
Based Performance Man.


Powerpoint of Vector-Based
Performance Management
Ausgewählte Schriften von Dritten:
deutsch

Schumacher, Die Philoso-
phen als Kartographen

Schumacher, Rückkehr zum
menschlichen Mass

englisch

Innovation R&D (1979)

Empathy Economy

Support Economy
---
---

Dieses Werk ist lizenziert unter einer Creative Commons Namensnennung - Nicht-kommerziell - Weitergabe unter gleichen Bedingungen 4.0 International Lizenz.
---

English (beta)
Vielfach hilft es schon, wenn man das, was man weiss, anders formulieren und visualisieren kann.
Immer weniger ist es eine Frage, ob erforderliche Daten vorhanden sind, als vielmehr, wo sie verfügbar sind und wie sie zueinander in Beziehung gesetzt werden können.
Nicht einzelne Zahlen, sondern erst ihr Zusammenspiel und die richtige Darstellung der Informationen schaffen die Grundlagen für ein gemeinsames Verständnis der aktuellen Lage und der Handlungsoptionen.

Die Vektordarstellung ist eine bewährte Lösung zur Analyse und Planung komplexer Systeme im Engineering. Ihre Anwendung in der Organisationsentwicklung öffnet Führungskräften auf allen Ebenen bisher undenkbare Möglichkeiten, ihre Einsichten und neue Optionen in der Gestaltung tragfähiger Unternehmen zu kommunizieren und umzusetzen.
Anregungen für den Einsatz der Vektoriellen Werteabbildung
Die Möglichkeiten der Werteabbildung durch den Vektor sind so vielfältig, dass die Beispiele hier nur einen kleinen Teil abdecken können. Versuchen Sie diese Techniken mit Ihren eigenen Kennzahlen und machen Sie Ihre eigenen Beispiele.
(Wenn Sie auf die Bilder klicken, erscheinen sie vergrössert.) Weitere Beispiele finden Sie HIER.
Sie werden entdecken, dass Sie nach einigen (wenigen) Angewöhnungsproblemen Ihre Werte und die Zusammenhänge der Bewertung wesentlich besser kommunizieren können. Und dass in den Besprechungen echte Wertediskussionen geführt werden.
Struktur der Beispiele:
---
1. Grundlagen des Vektorprinzips für die Wertebestimmung
Werte sind Eigenschaften von Objekten und haben mehrere "Dimensionen" - mit "objektiven" (genormten) und "subjektiven" (von Personen abhängigen) Einheiten (Metriken).
Mit Vektoren ist es seit 200 Jahren in Technik und (jetzt) auch in der Wirtschaft möglich:
mehrere Werteigenschaften (monetäre UND nicht-monetäre, "objektive" UND subjektive) gleichzeitig darzustellen.

numerisch und auch grafisch mit mehreren Werteigenschaften zu rechnen.

Werteigenschaften auch im Verbund und im Zusammenhang eindeutiger darzustellen.
Wozu denn mehrdimensionale Werteigenschaften visualisieren?
Um sich der "linearen" entweder-oder Argumentation lösen zu können und mit einer "sowohl-als-auch" Betrachtung eine wesentlich bessere Diskussions- und Entscheidungsbasis zu haben.

---
---
2. Beispiele aus der Softwarelösung

Zur Zeit haben zwei Unternehmen die Lizenz, Software zu erstellen, mit denen Werte als Vektoren visualisiert werden.
Screen Shots der Lösungen - und Links zu weiteren Informationen finden Sie unten.
Für neueste Informationen: software@bengin.com
Firma Root Software AG
Diese Firma hat eine JAVA-Lösung entwickelt, mit der grössere Datenmengen aus Excel - aber auch aus beliebigen anderen Datenbanken verarbeitet werden können.
Weitere Informationen:
Firma und Software. Download: [pdf, 900 KB]
PowerPoint mit 11 ScreenShots des Rocsy. Download: [ppt, 1800 KB]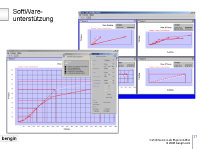 2.1 Mehrdimensionale Eigenschaften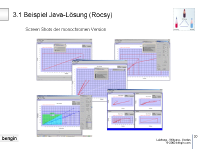 2.2 ScreenShots der ROCSY Lösung
---