Jesus had no budget

Viele externe Links sind eher unstabil und sind nach einiger Zeit nicht mehr gültig.
Diese Seite erlaubt den Zugang auf ein Backup der ursprünglichen Datei. Die gesamten Rechte an den Daten sind vollumfänglich bei dem Original-Autor.
The Significance of Underreported Royalties.

With estimated annual IP licensing revenue in the United States at more than $120 billion, unrealized revenue from underreported royalties may be significant. The Invotex Group studied licensing relationships to measure the frequency of underreported licensing revenue and the impact of such underreporting on a licensor's ultimate financial results.
Backuplink, 13. April 2006
Handbook on Patent Mapping from the Japanese Patent Office.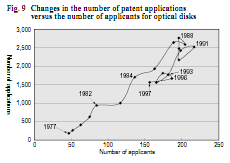 The IP Blog Phosita recently posted this extremely useful primer/overview of practical IP mapping and its uses. Anyone involved with IP landscaping would do well to look this over.
Backuplink, 13. April 2006
---