---

Global Wealth Vector 2011

THE WALL STREET JOURNAL http://blogs.wsj.com/wealth/2011/10/19/millionaires-control-39-of-global-wealth/
cited a publication "Global Wealth Report" from
Credit Suisse Research Institute: https://publications.credit-suisse.com/app/shop/index.cfm?fuseaction=OpenShopDetail&aoid=291481&lang=EN
Findings from Credit Suisse
3'054
million people
control
7.6
trillion US$
1'066
million people
control
33.5
trillion US$
369
million people
control
100.6
trillion US$
30
million people
control
89.1
trillion US$
Vector profile brings this numbers to a whole picture of distribution of wealth.
x-axis shows the number of people and
y-axis shows how much of US$ they control.
Red vector is the sum of all four clusters. Its inclination is the average wealth per person.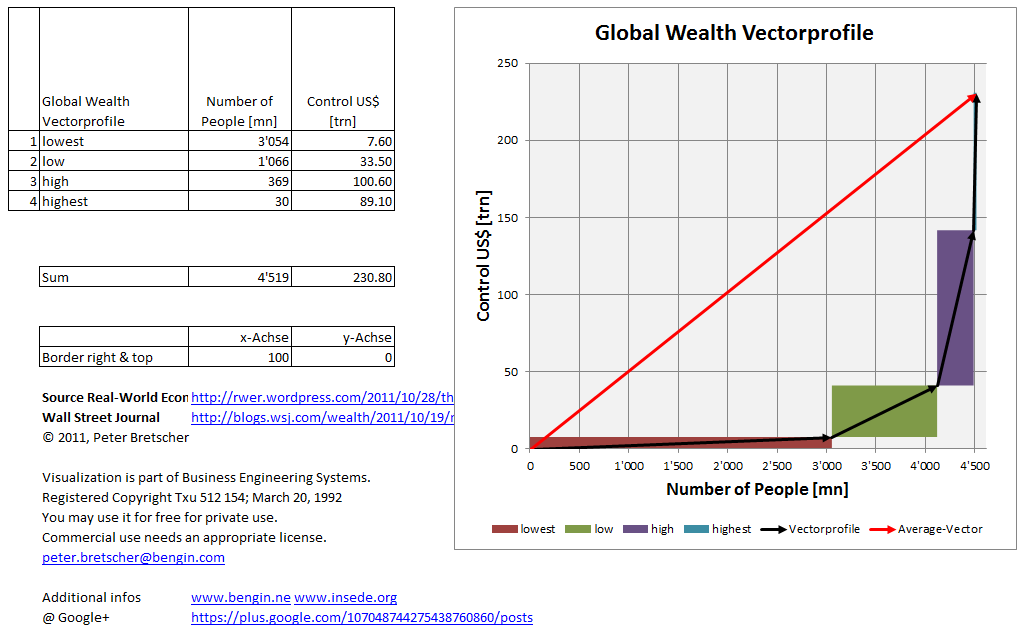 Exposition below is an interactive ExcelWebApp from "SkyDrive" of Microsoft.
You may change the data in your browser - graphic will change too.
This ExcelWebApp actually has some limitations - missing vector arrow for example.

If you have Excel 2010 on board you may download the template for private use: https://bengin.net/beta/04_global_wealth_vector_cs_e.xlsx

If you intend to use this vector principle please keep in mind that it is part of the "Business Engineering Systems" a proprietary set of tools; registered Copyright TXu 512 154, March 20, 1992;
Private use is free; no derivatives; commercial use (consulting, education....) needs individual license...
This license is part of the business model of INSEDE, that allows us to develop and spread solutions for a more sustainable economy.
Additional samples? See the first ten of Fortune 500 here: https://bengin.net/beta/bengin_forbes500_2011_e.htm

Find and download basic Excel templates - overview: https://bengin.net/beta/basic_master_e.htm
Found an issue? Want some more information? Like to be on our email list for news, to work with us? Understand German language? Be a supporter?
Thanks for mail: Peter Bretscher peter.bretscher@bengin.com
@ Google+: https://plus.google.com/107048744275438760860/posts