---

Performancevektor von Ernst & Young CH 1996 und PricewaterhouseCoopers CH 2011
Zahlen interpretieren und deren Zusammenhänge kommunizieren ist jetzt einfacher.
Mit Excel 2010 - sogar ohne Makros.
Hier werden Umsatz und Mitarbeiter in den verschiedenen Geschäftsbereichen dargestellt.
Steilere Vektoren zeigen eine bessere Performance.
Der rote Vektor zeigt die Durchschnittsperformance.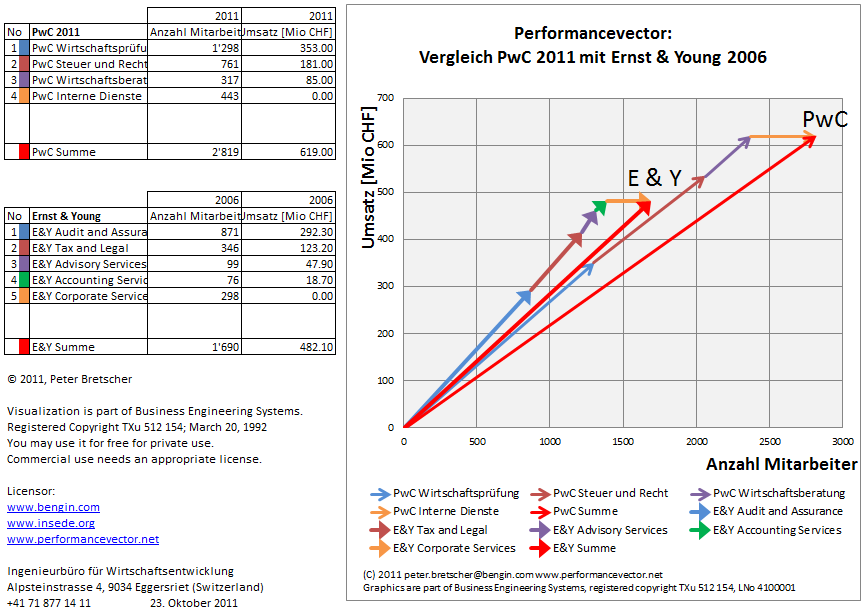 Die Darstellung unten ist eine interaktive ExcelWebApp aus dem "SkyDrive" von Microsoft.
In normalen Browsern können Sie die Daten ändern - und die Graphik wird in Ihrem Browser neu gerechnet (Änderungen werden nicht gespeichert).

Diese ExcelWebApp benötigt keine Lizenz, hat aber einige graphische Einschränkungen - es fehlen beispielsweise die Spitzen der Vektoren.
Wenn Sie hingegen Excel 2010 auf Ihrem Rechner installiert haben, können Sie das File mit allen Möglichkeiten hier herunter laden: http://www.bengin.net/beta/pwc_ey_2_performancevector_d.xlsx
If you intend to use this vector principle please keep in mind that it is part of the "Business Engineering Systems" a proprietary set of tools; registered Copyright TXu 512 154, March 20, 1992;
Private use is free; no derivatives; commercial use (consulting, education....) needs individual license...
This license is part of the business model of INSEDE, that allows us to develop and spread solutions for a more sustainable economy.
Additional samples? See the first ten of Fortune 500 here: http://bengin.net/beta/bengin_forbes500_2011_e.htm
Found an issue? Want some more information? Like to be on our email list for news, to work with us? Understand German language? Be a supporter?
Thanks for mail: Peter Bretscher peter.bretscher@bengin.com
@ Google+: https://plus.google.com/107048744275438760860/posts